Christian Vieler, the world-renowned dog photographer is coming to Brighton in 2024. He specialises in candid canine captures of your dog – snatching a treat in mid air!
This technique produces amazing portraits, and you can get one of your own when he visits Brighton in February 13-16th 2024!
He notes
For a successful treat picture, the dog should only react to flying treats. They do not have to be able to catch them at all. Only in case of complete lack of interest it might be difficult to produce a catch picture.
Follow Christian (along with 415,000 others!) on Instagram at @vieler.photography and read more and register for a shoot on his website, vieler-photography.co.uk.
Hi Christian! Tell brighton.dog about how you got started photographing dogs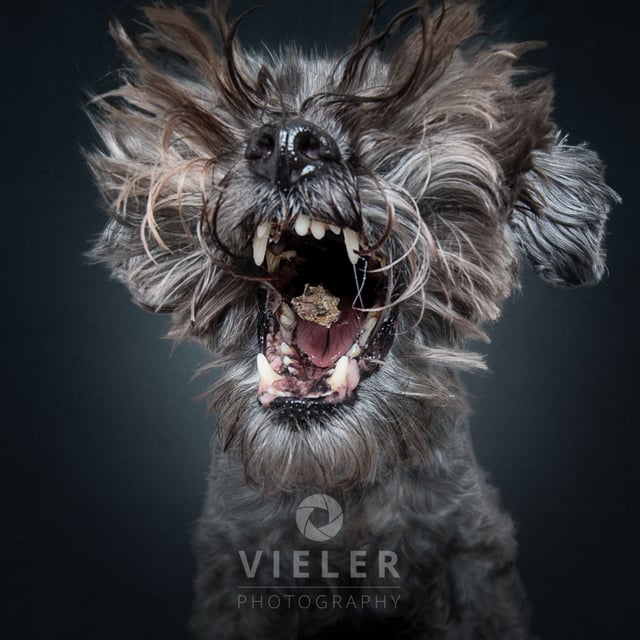 My first attempts at photography began in 2011. Lotte, my Labrador dog at the time, was the model for moving pictures. However, Lotte was very chilled and didn't want to move, so one day I started throwing Lotte treats in the hope that she would move more.
Lotte didn't disappoint me, laying the foundation for the very successful work that I've been doing full-time since 2016. And which continues to delight and fascinate countless admirers and dog owners. In addition to my work in the studio in Germany, I now tour worldwide.
What's your secret to getting thousands of dogs to sit and behave?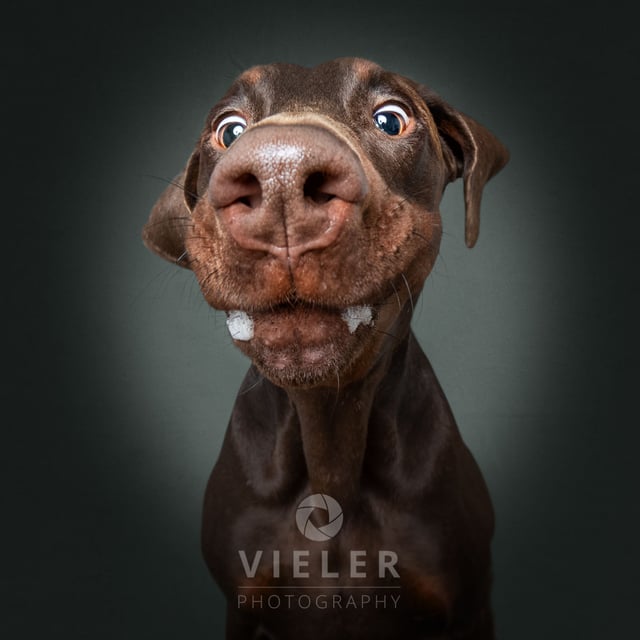 My secret to getting thousands of dogs to sit and behave is time, calm, empathy, and love for the animal. Of course, everyone is usually nervous at first - dog and owner. But this usually subsides very quickly. And for dogs, these shoots are usually a piece of cake. There are also a few treats.
You work all over the world. Have you noticed any interesting differences in the various international dog-owner cultures?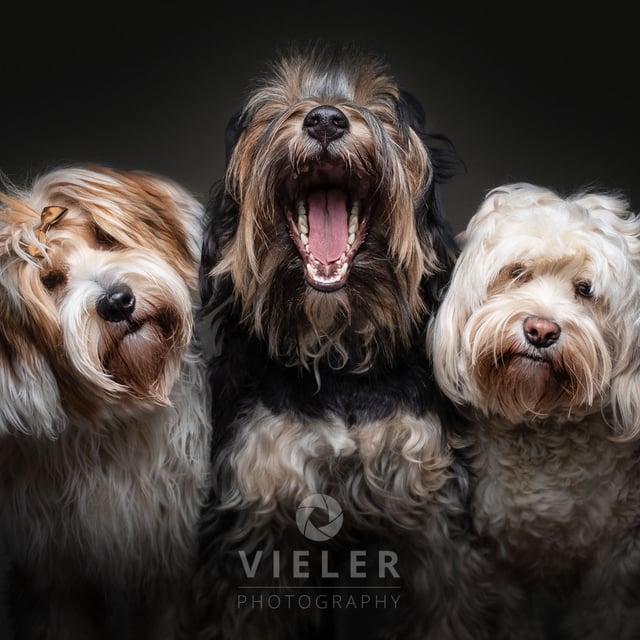 In fact, there are sometimes differences, but they tend not to affect my work. The differences have less to do with the country and more to do with the attitude.
Sometimes hunting dogs are kept in a big city and sometimes in the countryside, such as in the UK in Scotland. And there these animals follow the exact destination, which is not the case in the big city.
Can you give us phone-only amateur dog photographers a tip for getting a great photo of our pups with such basic cameras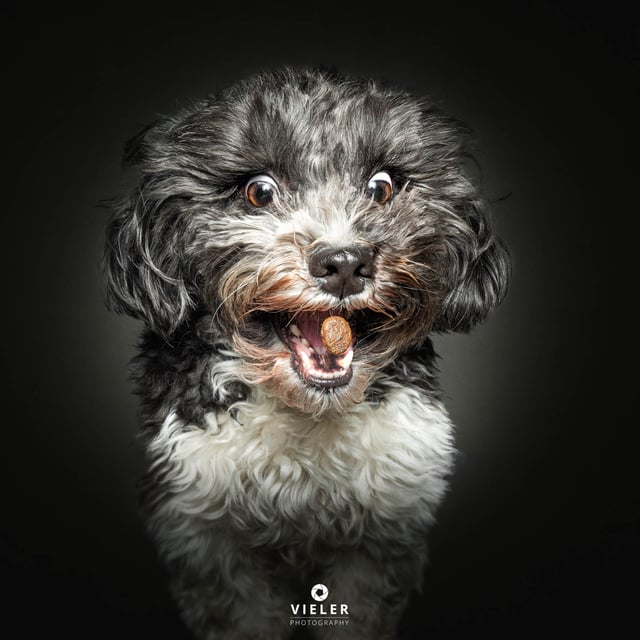 I get asked this all the time and it's actually difficult, because these moving images require a lot of experience as well as certain equipment. It starts with the camera and ends with special flashes and lighting. But with a little creativity, you can also take great shots with a mobile phone.
Have you ever been bitten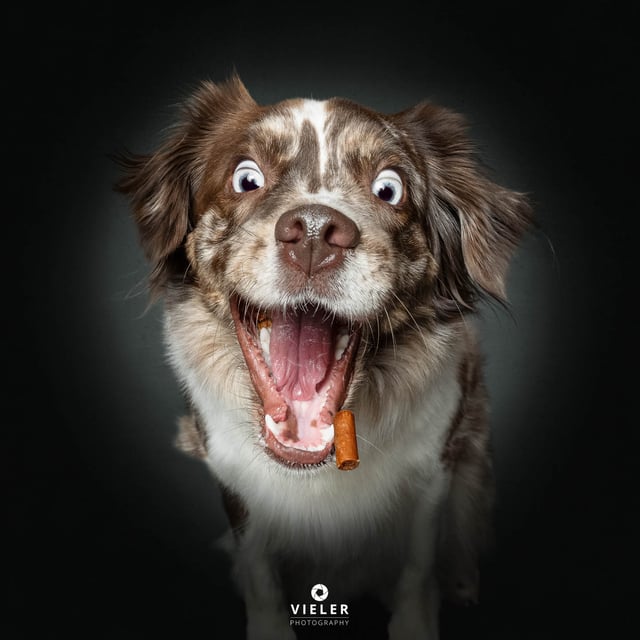 In a nutshell: no. I think I'm far too important to the dogs at that moment as a treat supplier. :-)
Snapping the photo must be half of the job, what's the process between shooting and finishing a portrait?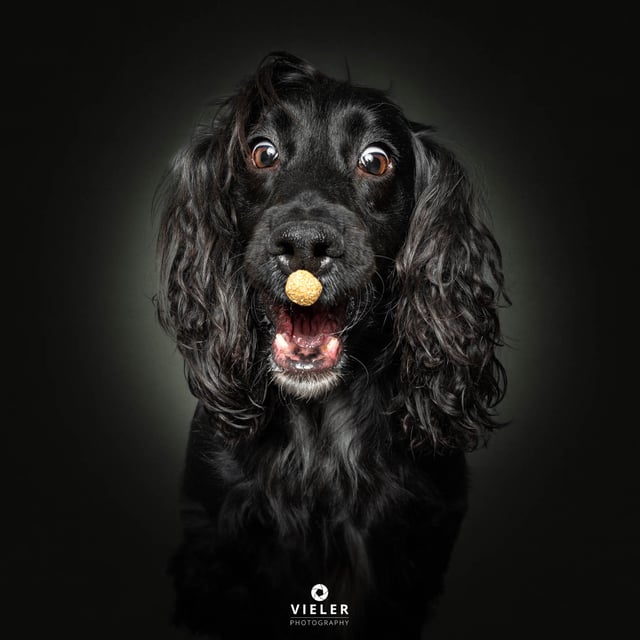 A shoot like this often produces up to 150 pictures of a dog. After an initial inspection by me, the owner then receives a link to their gallery, from which they can choose their favourite motifs. These are then edited by me. This editing usually takes a lot of time; sometimes more than the shoot itself.
Are any breeds notable for their natural photogenic or modelling abilities
I used to think that the Labrador would be perfect. Today, I think that basically all breeds are well suited as models. Some days more, some days less - just like with us humans.
Do you have dogs of your own? What's your own personal favourite photo of them?
At the moment I have two dogs. My declared favourite picture is of course one with Lotte, because it all started with her. Bobba actually became world famous. This picture always reminds me of the painting "The Scream" by Edvard Munch.
New York, Barcelona… Brighton?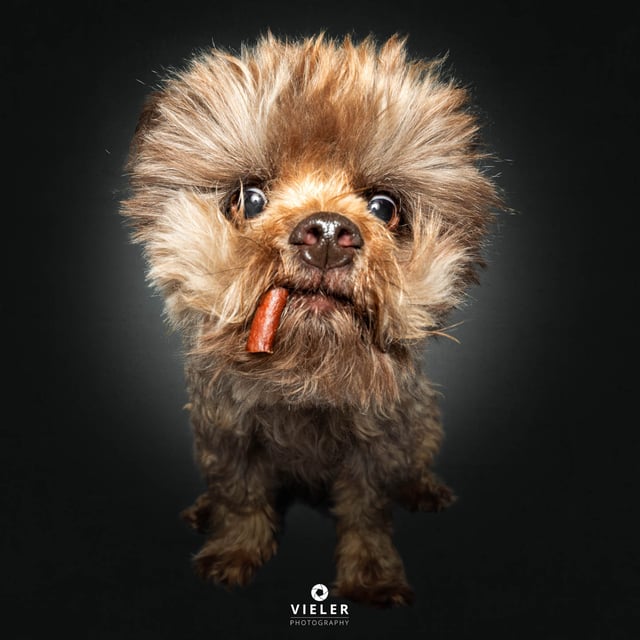 Great Britain has been a permanent fixture in my tour schedule for several years now. After several stops in London, enquiries led me to Woking, among other places. Some clients take a journey of over 2.5 hours to travel to London for a shoot.
As Brighton is not only a wonderful area, but also extremely dog-friendly, it made sense to make a stop there. For me, Brighton is the city of dog love.
You must have tested all the treats. What's the best dog treat
I have certainly not been able to test all the products on the market yet. However, I only really work with one brand, as I am also professionally associated with this manufacturer.
And I've had the best experiences with them. Even the most important participants in a shoot, our beloved fur noses, are convinced by these treats.
---
Huge thanks to Christian for partnering with us and sharing these incredible pictures! Don't forget you can read more and register for a shoot on his website, vieler-photography.co.uk.